Have you ever met a mortal God? 
Have you ever met a mortal God that plays baseball?
Ok, maybe it's not fair to ask whether you've met one, but perhaps you've seen one before. They are rare, and often have strange names. I saw two last night:
Covelli Loyce "Coco" Crisp and David Jonathan "J.D." Drew.
You probably weren't watching, but if you were it didn't look good for the Red Sox last night. Down 7-0 in the seventh inning of an elimination game in the American League Championship Series against the Tampa Bay Rays, the Red Sox looked anemic. For the third game in a row their starting pitcher had imploded and they were down 2-0 in the first inning, then 5-0 only in the third, then 7-0 in the 7th. I was flipping channels in between BYU's game and the Sox. Both games looked very bad to me. BYU was down 23-0 after the first half against TCU, and the Red Sox looked to be goners for this year, going down without much of a fight, Tampa Bay players playing with huge grins on their faces ready for a World Series showdown with the Phillies.
Then something miraculous happened. With two men on, the energizer bunny of the Sox team, 5' 6" Dustin Pedroia hit a single and got the Sox on the board. Only one at-bat later, "Big Papi" David Ortiz, who had been without a home run in his previous 61 at-bats hits a towering shot to right field. All of a sudden the game is 7-4. 
The next inning with 1 man on, JD Drew, God among men, clutchest man to ever live comes to the plate against the Ray's reliever Wheeler. Well, let's just say it wasn't Wheeler's night. Drew crushed the ball and made the game 7-6. But, if that weren't enough (and it wasn't) Wheeler got 2 outs and looked like he was going to wrap things up when my favorite outfielder/chocolate cereal came to the plate. Coco Crisp. After battling for 10 pitches, he sliced a beautiful single in play with Mark Kotsay at second and tied the game at 7-7. Coco was tagged out trying to extend his single to a double, but the damage was done. 

But, it looked like it wasn't going to be the next inning as Justin Masterson was pitching with one out and 2 on in the top of the ninth. Then, quite masterfully, Masterson induced a grounder from the Rays' go-to guy, Carlos Pena. One 4-6-3 double play later we were all tied up in the bottom of the ninth.
The Rays' little boy of a man JP Howell was pitching. And, he managed to get two outs, but not before 3rd baseman Evan Longoria botched getting Kevin Youkilis out at first on a routine grounder. The ball went into the seats after Pena couldn't hang on to the errant throw. Youk took second. Then Jason Bay (supposedly Manny's replacement, but a lot better of a person) steps to the plate. The Rays manager Joe Maddon decides to intentionally walk him, bringing up once again JD Drew, with his career 4-7 average against lefty JP Howell. It was lefty versus lefty. And my money was on the baseball God whose name rhymed with 'Screw."
And, he didn't disappoint. He sandwedged a shot into right field just over the extended glove of Rays outfielder Adam Gross. GAME OVER. Red Sox win 8-7 in the biggest playoff comeback in MLB history since 1929, and the biggest ever elimination game playoff win ever.
I have seen mortal Gods who play baseball.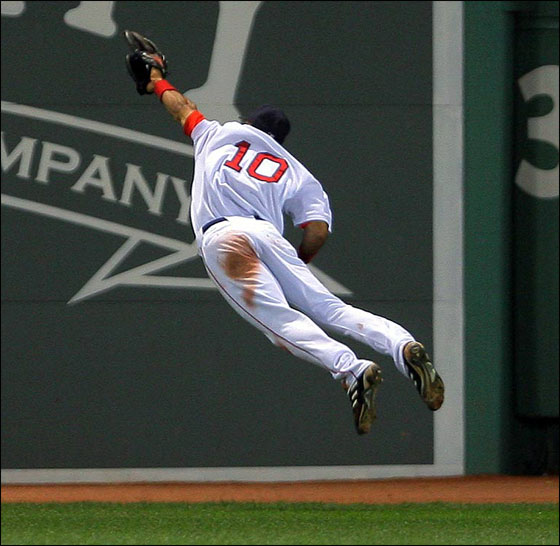 Coco Crisp and JD Drew.
Now the most beautiful names on earth. Who knew?